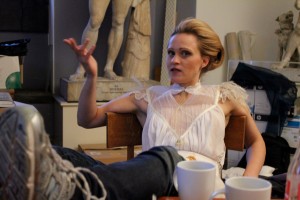 Freelance singer, dancer and composing performer. Based in Denmark.
Educated at EDDC, European dance development center in Holland.
Music and singing is the essence of the artistic work. Has created 4 solos
and cooperated with musicians, choreographers, theaters and artists in
different constellations.
Primary collaborators
GRANHØJ DANS
Since 2003 participated in more then 600 performances as a singer and dancer.  Extensive touring in Europe, China, Israel, U.S.A. and Canada. Has created the solo-performance I wan´t it all to be so well which is a philosofical performance with music, dance, lyrics and singing.
Orfeus Balkan Ensemble
Since 2014, solist in a bulgarian folkmusic quartet with Adam Ørvad – Accordion, Filip Filipov – tapan, Ennis Ahmed – Tambura. The Ensemble has released one CD – Zakachka, which can be found on I-tunes.
www.orfeusbalkanensemble.dk
VOKALSELSKABET GLAS
Co-founder and soprano (2001-2013).  A Vocalensemble singing bulgarian folkmusic in new arrangements for choir like Le mystère de voix bulgares and Philip Kutev choir .
"wisdom of birds" is a performance staged at the Glyptok in Copenhagen. The septet is moving, dancing and acting whilst singing the complex compositions. Glas has released two CDs in this Bulgarian genre and was nominated for the Danish World Music Award.
Other collaborators
Dansolution – Three solo performances "Ironsea", "Corner less", "Chemical"
Theater moellen/Nordkraft  – "Linedanseren"
Theater Cantabile 2 -  "Seek to seek"
Scenografer Veronica Hodges/GLAS -  "Wisdom of birds"
Composer Line Tjørnhøj "Anorexia sacra" + "Stabat Mater"
Guitarist John Sund/GLAS – World/Jazz – CD projekt
Guitarist and composer Dalia Faitelson "The orient west choir"
Kira Skov/GLAS/Peterpeter –  CD "Persona"
Colina – "sound in darkness"
Next Zone, Lene Boel – "Humanimals"
Scenografer Sarah Cederstrand – " Landscape with Argonauts"
Danish movie "Fighter" – voice for sound-track.
Trio Tajuku – Oriental trio – Tour in Egypt and Pakistan.
Cellist and dancer Mathias Hudelmayer . Duet "trio4two"
Katrine Faber – "the sound of human"
Det ny teater – "Jesus Christ superstar"
Niels Kilele – CD "mellem her og der"
Frans Bak/GLAS – Film Music